FUTURESILIENCE at the EU Knowledge Valorisation Week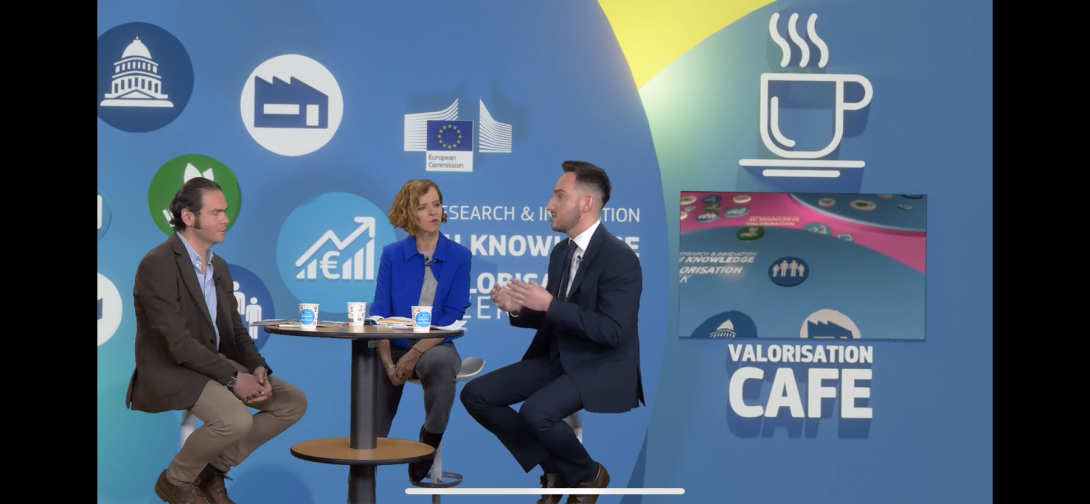 The EU knowledge valorisation week took place in Brussels last 25th to 28th April as a hybrid event, gathering multiple stakeholders from policy, academia, business and the private sector as well as civil society and citizens. Matias Barberis, the FUTURESILIENCE Project Manager, participated at the Valorisation Café "Science in the cockpit for policy in turbulent times." The session was moderated by Sergiu-Matei Lucaci and Izaskun Lacunza from the Spanish Foundation for Science and Technology was the co-panellist. 
Research and innovation is expected to play a crucial role in European strategic policies such as the energy transition, building resilience or increasing competitiveness. This can happen when excellent research results and data are quickly made available and put to practical use across Europe. However, this raises the question of how R&I can best contribute to policy-making in the turbulent time we are living through? 
Science and Policy
There is no doubt we are living in a complex world, where turbulence is becoming a new 'normal'. Matias highlighted that science is not the only driver of policymaking, particularly when we think about turbulent times. A key challenge for science is to reduce uncertainty to a minimum by means of more and better research results. This should help all those involved in policy-making by providing valuable knowledge, tools and skills that are commensurate to the complexity of the world we live in. Policymakers need to better understand how people deal with the consequences of complexity, in order to be prepared to react to what could happen if they take one or another decision. This is a key issue when seeking to scope how policy and science may interact. 
Experimentation
A specific point of discussion was about experimental research: FUTURESILIENCE will have 10 pilot cases, so called "future resilience labs" to test policy relevant solutions to deal with multiple uncertainties, to help better prepare our societies for future shocks and to build more resilience. Matias explained that experimentation is most useful if it results in active learning. Hence, by involving policymakers and stakeholders in process design and implementation, there is more chance to develop solutions that are informed not only by science, but also shaped by citizens at local level. In this respect, science and policymaking should be at the service of societies and aim to meet societal needs, today and tomorrow, in order to create a positive and transformational impact. 
How should scientists and policy makers adapt to such turbulent times? There are three key takeaways: 
We should tackle the nature of uncertainty: policymakers should be early listeners of scientific "signals" and not wait until shocks happen. There is a need for anticipatory governance, and this requires coordinated efforts in the science-policy-society triangle. 
We should tackle the level of uncertainty: this implies focusing on solutions applicable to multiple scenarios. It means having plan A B C for X Y Z situations. Experiment, replicate and scale up. 
We should tackle the location of uncertainty: to operate at different geographical levels, we should reach more remote areas, reinforce regional approaches and look at increasing trust in science through societal engagement at local level. 
See the full recording of the session: https://www.youtube.com/live/qqWHXVy7bQo?feature=share 
Learn more about Knowledge Valorisation policy: https://research-and-innovation.ec.europa.eu/research-area/industrial-research-and-innovation/eu-valorisation-policy_en
Login to add a new comment
---